Services
Land Surveys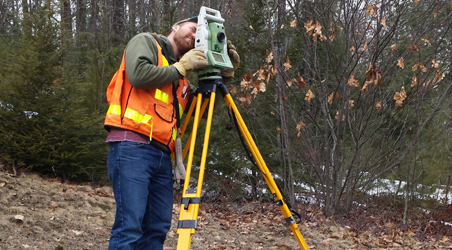 Owen Haskell's Land Survey services are of the highest international standards of accuracy, reliability, and efficiency. We are committed to incorporating the latest proven equipment in the field and the most cost-efficient technology in the office to provide clients with the most cost-effective land surveying service in the region. Our survey services include design, boundary, topographic, and right-of-way surveys as well as construction staking.
Property Line
ALTA/NSPS Land Title
Subdivisions – Design and Layout
Record Drawings
Utility Right Of Way
Road Redefinitions
Commercial and Industrial Development
Mortgage Loan Inspections
Download our Professional Services sheet. Click Here [pdf]
Engineering Surveys
At Owen Haskell Inc. – our engineering surveys gather data for use by planners and engineers. The products resulting from engineering surveys are generally topographic maps and/or a digital terrain model(DTM). Both conventional (on the ground) and photogrammetric methods are used to gather data for engineering surveys.
Construction Layout
Route Alignment
Control and Quantity
Topographic and Utility
G.I.S. Data Collection
Hydrographic
Download our Professional Services sheet. Click Here [pdf]