Land Surveys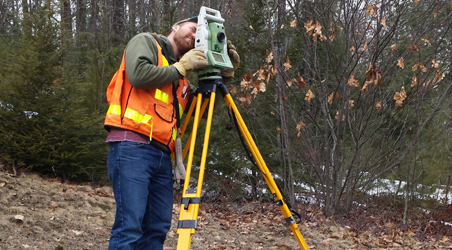 Owen Haskell's Land Survey services are of the highest international standards of accuracy, reliability, and efficiency. We are committed to incorporating the latest proven equipment in the field and the most cost-efficient technology in the office to provide clients with the most cost-effective land surveying service in the region.
Our survey services include design, boundary, topographic, and right-of-way surveys as well as construction staking.
Property Line
ALTA/NSPS Land Title
Subdivisions – Design and Layout
Record Drawings
Utility Right Of Way
Road Redefinitions
Commercial and Industrial Development
Mortgage Loading Inspections
Comprehensive Land Surveys
A complete and accurate land survey is of fundamental importance in nearly all real estate transfers. A comprehensive land survey and physical inspection of the property is the only efficient and reliable means of delineating the physical limits of the property and locating the improvements on it. Yet land surveys are one of the least understood and most frequently overlooked elements in a real estate transaction.
Here are five fundamental reasons for requiring land surveys in real estate transactions:
1. Existence of the Property
2. Relationship of the Property to Adjoining Properties
3. Relationship of Occupied Lines to Record Lines
4. Location of Physical Improvements
5. Unrecorded Easements and Other Facts not Recorded